"GROOVE ON THE GREEN 2023" featuring 12 South and presented by Coca-Cola United, is a FREE CONCERT open to the Greystone Founders and Greystone Legacy homeowners plus all Greystone Golf & Country Club members!  Donations and Sponsorships are encouraged and go to support our charities.
Groove On The Green 2023 Raffle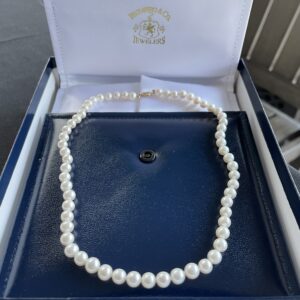 Grand Prize
Freshwater Pearl Necklace
Courtesy of Bromberg's
Second Place Prize (Two Prizes!)
Round of Golf For Four With Carts at Greystone
(Two Certificates Being Raffled – Two Chances to Win)
$1,000 Value per Non-Member, $475 Value per Member
Dinner For Four at Aqua
Two Appetizers, Four Entrees, Four Desserts, Two cocktails per person or two House Bottles of Wine. $500 Value
For each $25 Family Donation, you will receive one raffle ticket! 
Families and Individuals are encouraged to make a minimum donation of $25.00 donation in lieu of buying a ticket, but any amount will be welcomed and there is NO LIMIT on donations!
For every $25 donated for the "Groove on the Green" event, you will receive one raffle ticket!!!! See our raffle items above!
The more our patrons donate, the more the Greystone Foundation can give to our charities! PLUS, our Groove Fans will have a QR code on them for an easy way to donate as well!  (Click here to purchase)
SPONSORSHIP OPPORTUNITIES
Each "TEEN VIP" Section Wristband is a $25 donation and includes:
NEW! Ages 13-17 ONLY!
Roped-off and secured area for teenagers only!
Corn Hole, Giant Jenga and other outdoor games and lounge area!
Wristband will be required to enter!
SOLD OUT! Each "PLATINUM LOUNGE" Platinum Lounge Sponsorship is a $2,500 donation and includes:
Front Row VIP Table
Lounge Area with Outdoor Furniture in front
Cocktail Service
Private Bar Access
Open Bar & Food
Eight (8) Passes
SOLD OUT!
SOLD OUT – Each "GREEN ROOM" Sponsorship is a $1,500 donation and includes:
Second Row VIP Table
Lounge Area with Outdoor Furniture in Front
Cocktail Service
Private Bar Access
Open Bar & Food
Six (6) Passes
SOLD OUT
SOLD OUT! Each "PARTY PAD" Package is a $1,000 donation and includes:
Third Row VIP High Top Tables
Private Bar Access
Open Bar & Food
Four (4) Passes
SOLD OUT!
OUR 2023 SUPPORTED CHARITIES
Lifeline Children's Services
– For 42 years, Lifeline Children's Services has been providing gospel hope to vulnerable children, women, and families in Birmingham, AL. Lifeline is a holistic ministry that seeks to bring hope through international and domestic adoption, pregnancy counseling, family reunification, global orphan care, and education and counseling. Lifeline carries the distinction of being the largest evangelical adoption agency in the United States. They have created a strong legacy for future generations by engaging in family partnerships, education women to know life-giving options, and finding avenues to bring care to children and families around the world.
Visit www.lifelinechild.org
HOPE FOR AUTUMN FOUNDATION
– OUR VISION IS TO BE COME A LEADER IN PROVIDING HOPE, ASSISTANCE, AND OPTIONS TO AREA FAMILIES BATTLING CHILDHOOD CANCER. Hope for Autumn Foundation provides financial ASSISTANCE for families of Alabama battling childhood cancer, supports innovative childhood cancer RESEARCH through the Developmental = Therapeutics Program at Children's of Alabama, a cutting edge research and treatment program for children with incurable cancers, and increases community AWARENESS of childhood cancer through the #givehope program in schools and businesses.
Visit www.hopeforautumnfoundation.org
Greystone Foundation Employee Scholarship – Starting in 2023 the foundation hopes to raise money to award financial assistance to current Greystone Country Club employees or their families. Depending on amounts raised moneys can be used to pay for books, tuition, room and board or hopefully all of the above. Moneys raised will be delivered to directly to higher education institutions such as Universities, Junior Colleges, and Trade Schools. The Foundation Board process of approval involves criteria that may vary year from year but will include high school transcripts, extracurricular activities, and Greystone employment tenure.
For more information on how to become a sponsor, please reach out to Chairperson Susan Peeples via email at groove@greystonefoundation.org
Greystone Foundation is recognized as a 501(c)(3) tax-exempt organization and donations are tax deductible within IRS guidelines